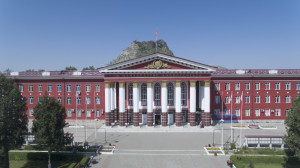 PROCESS PLANNING
The process of implementing the pilot project "Society and Education" for 2021-2022 (hereinafter referred to as the strategic plan) continued in the same direction as the previous plans, as well as with the introduction of new strategies aimed at solving new problems in the post-crisis period. A key element of the quality system is the strategic planning process based on a thorough analysis of our positioning, which considers the main parameters and indicators used by various national and international assessment agencies. In line with the current literature on strategic planning and with reference to similar processes carried out by other institutions, the university has developed a strategic roadmap that follows the general planning guidelines for the public university. The strategic planning process allowed us to determine actions that allow us to achieve our strategic goals and plan organizational performance in each area in accordance with the requirements of the legislation of the Kyrgyz Republic and ISO 9000: 2015 standards. The process of defining the Strategic Plan included the following steps:
Mission, values, view;
Positional analysis;
Definition of key and strategic goals;
Defining strategies and actions;
Link to 17 UN Sustainable Development Goals;
Determination of quantitative performance indicators;
General agreement on the strategic roadmap.
MISSION
Osh State University provides qualified and affordable education in accordance with international standards based on scientific research and labor market requirements. The University ensures the intellectual, cultural and personal growth of all members of its community, contributes to the preservation and enhancement of national values.
VALUES
The implementation of the strategic plan is based on the values reflected in the Constitution and the Law of the Kyrgyz Republic "On Education" and the Charter of the University. And they are sources of nourishing fundamental values for the entire community:
The Pilot Project Society and Education at Osh State University