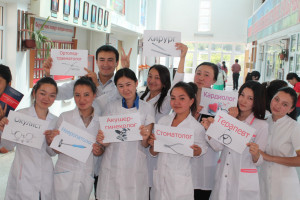 In 1992, considering need of acceptance of additional measures for social and economic and cultural development of the South of the republic, increasing need of this region for training of highly qualified specialists and scientific professionals, the Osh state pedagogical institute was transformed to the Osh state university (The decree of the President of KR No. VII – 202 of 17.06.92; No. 20/4 MONIQUE CR'S Order of 02.06.92).
The management of the Osh state university headed by the rector, professor B. Zh. Beshimov with support of the chief of regional Management of health care and administration of the Osh area got down to big preparatory work on registration of demanded documentation in the Ministry of Education, sciences and cultures of KR for creation of medical faculty. It required a lot of effort and energy for the organization of new faculty from the university management and also prominent representatives of practical health care, such, as Dr.Risaliyev D. D., Dr. Toychuyev R. M., Dr.Dzhumabayev , Dr. Shaynazarov T.Sh., Dr. Atakhanov K.A. , Dr.Maksimbekov I.N. , Dr.Jeenbayev J.J. ,Dr.Baysalov A.B. and also head of health department of Osh region.
In 1992, based on the documents submitted by university, the decision on opening of medical faculty on the basis of the Osh state university (The resolution of the government of KR No. 552 of 5.11.92 is made; the order of Ministry of Health of KR No. 324 of 17.11.92,). Professor Dr.Jeenbayev J.J was appointed dean of the medical faculty. He contributed much for opening and the organization of this faculty. Regional chief of the health care management Dr. Risaliyev D. D. supervised the medical faculty.
The first batch of students was admitted in 1993 consisting of 115 young boys and girls (100 – on the budgetary form of education, including "General Medicine" – 50 students, "pediatrics" – 50 students and 15 students on the specialty "General Medicine" – on contract form of education). Educational process was carried out by two chairs – chair Biochemical disciplines (Head department Dzhunusov А.J. ) and chair of morphological disciplines with office of a Clinical course (Head department Prof. Zhaparov B. Zh.) .
Head of department

The name of the chear

Phone number:

Email address

Arstanbekov M

Head of chear of Orthopedic and dentistry

0557-70-92-22

marstanbekov@oshsu.kg

Boronova Ziynat

Head of department of Technology

0554-12-13-77

zboronova@oshsu

Djemuratov Maksatbek Abdukadirovich

Head of department of Onchological and Otorhinology

0773-16-39-71

0553-16-39-71

mdjemuratov@oshsu

Joldubayev Irisbay

Head of department of Internal diseases

0557-81-20-15

ydjoldubaev@oshsu

Kamalov

Dean of Department of natural Dissipline

0777-56-23-68

0557-61-07-07

jkamalov@oshsu

Mamayev Tõg'ulbay Mamayevich

Head of department of healthy care

0554-24-17-11

0773-59-70-07

tmamaev@oshsu

Mamajakib uulu Janibay

Head of department of Surgery and Stamotology

0773-00-05-62

0559-00-05-62

jmamajakypuulu@oshsu

Mamajakib uulu

Head of department of medical Chare

0558-20-06-78

сhmamajakyp uulu@oshsu.kg

Mamasaidov Abdumutalib Tashaliyevich

Head of department of Internal diseases

0552-75-70-40

amamasaidov@oshsu.kg

Mametov Ravshan Raimberdiyevich

Head of department of pediatrics

0779-66-09-24

0559-12-04-64

0555-81-47-57

rmametov@oshsu

Mametova Altinay Sulaymonovna

Head of department of Biology

0778-82-46-58

amametova@oshsu

Matazov Bakit Abdillayevich

Head of department of Urology '

0555-19-71-47

0771-07-84-00

bmatazov@oshsu.kg

Muratov Abdujalil Abdurazzakovich

Head of department of Chair surgeons

0773-98-35-47

0559-06-06-57

amuratov@oshsu

Muratova Janara Kochkorovna

Head of department of Anatomy

0552-12-92-99

jmuratova@oshsu

Nurueva Zamira Attokurovna

Head of department of pediatric

0770-20-67-20

0557-00-59-58

znurueva @oshsu.kg

Osmonov Tagaibek Zhenishbekovich

Head of surgery Diseases

0554-00-53-57

tosmonov @oshsu.kg

Razakov Azizbek Kokoevich

Head of department of Gynecology

0554-00-53-01

0779-69-25-45

arazzakov@oshsu.kg

Sadikova Altinay Akbaralievna

Head of Internal disease

0779-01-21-10

0558-01-21-10

asadykova@oshsu

Seyitbekov Taalaybek Tokurovich

"Traumatologist

, Head of the Department of Forensic Medicine and Radiation Diagnostics"

0773-93-13-27

0555-93-13-27

tseiitbekov@oshsu

Taychiyev Imamnazar Taychiyevich

"Head of the Department of Epidemiology, Microbiology and Infectious Diseases

0777-70-90-00

0557-06-01-54

itaichiev@oshsu

Umetova DJamila Abdullayevna

"Head of the Department of obstetrics and Gynecology"

0772-27-22-07

0553-27-22-07

dumetova@oshsu

Shatmanov Suynali Toktonazarovich

"Head of the Department of Histology and Pathology"

0779-86-94-58

sshatmanov @oshsu.kg

Yusupov Furqat Abdulaxatovich

"Head of the Department of Neurology, Neurosurgery and Psychiatry

0557-74-47-63

fjusupov@oshsu
job title

full name

contact phone

email address

Dean of the Faculty of Medicine, Candidate of Medical Sciences, Associate Professor. Ismailov Alimbek Adylbekovich

Ismailov Alimbek

Adylbekovich

0555

91-35-35

alismailov @oshsu.kg

Deputy Dean for Academic Affairs 1, 2, 3 courses of the Faculty of Medicine, Candidate of Political Science, Associate Professor

Aitieva Sharipa Jalalovna

0551

77-76-17

shaitieva@oshsu

Deputy Dean for Academic Affairs of the Faculty of Medicine in the specialties "Dentistry", "Pharmacy".

Pakyrov Zhenishbek Karakozuevich

0778

30-12-22

jpakyrov@oshsu

Deputy Dean for Academic Affairs in Pediatrics and Nursing with Higher Education

Tashieva Gulbara Samidinovna

0550

36-23-11

0772

36-23-11

gtashieva@oshsu

Deputy Dean for Academic Affairs, 4th, 5th, 6th year students of the Faculty of Medicine, specialty "Pediatrics", "General Medicine", Candidate of Medical Sciences, Associate Professor.

Tajibaev Maksatbek Karimovich

0559

79-77-79

mtajibaev@oshsu

Deputy Dean for Scientific Work of the Faculty of Medicine, Candidate of Medical Sciences, Associate Professor

Shermatova Uulzhan Baltabaevna

0550

50-99-58

ushermatova @oshsu gtashieva@oshsu

Deputy Dean for the modularly integrated program

Joobasarova Dinara Zhaambaevna

0779

74-59-50

joobasarovadinara@gmail.com

Chairman of the educational and methodological council, senior lecturer

Tursunbaeva Ainura Turdubekovna

0550

61-71-66

atursunbaeva@oshsu

Secretary of the Academic Council, Candidate of Chemical Sciences, Associate Professor.

Omurzakova Gulnara Gulamovna

0772

95-61-74

omurzakova@oshsu

Representative of the Trade Union Bureau, Senior Representative

Manasov Nasyrbek Abduvalievich

0772

27-71-86

Chairman of the Council of Women, Candidate of Biological Sciences, Associate Professor

Kasieva Gulsara Keneshovna

0552

51-00-99

gkasieva@oshsu

Deputy Dean for industrial practice in the specialty "General Medicine".

Kamchiev Keldiyar Akbaralievich

0552

66-60-33

kkamchiev@oshsu.ru

Deputy Dean for International Relations, Candidate of Medical Sciences, Associate Professor.

Muidinov Fazliddin Vaezdinovich

omurbekov@oshsu

Deputy Dean for Education and Social Affairs.

Gulzhigitov Maksatbek Gulzhigitovich

0771

01-77-07

mguljigitov@oshsu

Deputy Dean for Contract Issues, Lecturer.

Abdraeva Feruza Asylbekovna

0550

57-08-85

Feruzaabdraeva1983@gmail.com

Deputy Dean for industrial practice in the specialties "Dentistry", "Pediatrics", "Pharmacy" and "MPD", teacher

Omurbekov Esenbek Omurbekovich

omurbekov@oshsu