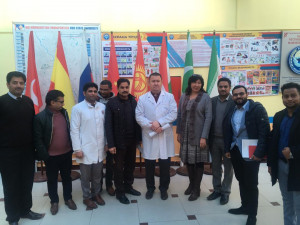 We are pleased to greet you on the webpage of International Medical Faculty of Osh State University (OshSU), the educational flagship in Kyrgyzstan and a classical international university, which is a member of Shanghai Association of Universities.
The International Medical Faculty is the youngest unit of higher professional education in OshSU. Expedient and timely decision on establishment of the faculty was taken in the Academic Council of August 29, 2015.
Faculty Targets:
1. To educate highly qualified medical specialists who are on high demand on labor markets of foreign countries and the Kyrgyz Republic, with competencies to carry out independent professional, scientific and research activities; to prepare competitive and highly intelligent professionals with excellent abilities for self-development.
2. To internationalize the national medical education.
3. To establish partnerships with educational institutes of foreign countries for creating opportunities for students to participate in exchange programs and create networks, strengthening University status on international level.
4. To enter the system of international scientific, informational and communicational space and also the group of leaders of main medical educational centers of our region.
The mission of the IMF is to become a mentor who prepares qualified personnel for competitions at the national and international levels. Teach every student to read, live and be creative.
Specialties
| | | | | |
| --- | --- | --- | --- | --- |
| № | Name of specialty | Degree | Form of study | Training period |
| 1 | Medicine (GM) | Specialist | Daytime education, distance learning | 5, 6 years |
| 2 | Public health | Master's degree | Daytime education | 2 years |
Department
| | | | |
| --- | --- | --- | --- |
| Name of Department | Head of the department | Contact phone | Email address |
| Natural Sciences and Mathematics | Doctor of Physical and Mathematical Sciences, Professor Kurbanaliev Abdykerim Yrysbaevich | 0779 70 71 12 | kurbanaliev@rambler.ru |
| Pathology, Basic and Clinical Pharmacology | Doctor of Medical Sciences, Professor Belov Georgy Vasilievich | 0550 10 11 18 | bagdan1954@mail.ru |
| Public Health and Health Care | Candidate of Medical Sciences, Associate Professor Turusbekova Akshoola Kozmanbetovna | 0555 10 90 70 | akshoola.turusbiekova.80@mail.ru |
| Clinical Disciplines 1 | Candidate of Medical Sciences, Associate Professor Mamatova Sabirakhan Myrzaevna | 0773 71 44 71 | sabiramirzaevna@gmail.com |
| Clinical Disciplines 2 | Candidate of Medical Sciences, Associate Professor Bugubaeva Makhabat Mitalipovna | 0778 08 70 22 | maha.bugubaeva@mail.ru |
| Social and Humanitarian Disciplines | Candidate of Philosophy, Associate Professor Ysmailova Raikan Apzhaparovna | 0779 44 54 00 | r.ismailova@yahoo.ru |
| Anatomy, Histology and Normal Physiology | Candidate of Medical Sciences, Associate Professor Sakibaev Kyyalbek Sherikbaevich | 0555 84 61 09 | 2sksh@rambler.ru |
| Surgical Disciplines with a Course in Traumatology | Candidate of Medical Sciences, Associate Professor Arynov Zamirbek Saparbayevich | 0778 666 464 | z.arynov80@mail.ru |
Faculty management
| | | | |
| --- | --- | --- | --- |
| Position | FULL NAME | Contact phone | Email address |
| Dean of the international medical faculty | Muratov Zhanibek Kudaibakovich | 0777 00 66 66 | kudaibakov66@gmail.com |
| Vice dean for academic Affairs | Atabaev Ibragim Nasyrovich | 0773 08 87 75 | ibro2211@mail.ru |
| Vice dean for academic Affairs | Djumaeva Lazokat Madaminovna | 0772 33 64 33 | nazlaz@mail.ru |
| Vice dean for science | Tashmatova Nazgul Mamatumarovna | 0555 06 62 87 | tashnaz@mail.ru |
| Chairman of the educational Council | Bugubaeva Mahabat Mitalipovna | 0770 84 61 09 | maha100881@mail.ru |
| Vice dean for contract and educational work | Mitalipova Aynura Nurmamatovna | 0773 47 87 47 | mitalipova.ainura@gmail.com |