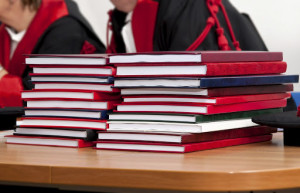 In 2021, by permission of the Higher Attestation Commission of the Kyrgyz Republic, Osh State University organized the defense of candidate and doctoral dissertations in 23 specialties as part of the work of 8 dissertation councils. 5 dissertation councils of them were opened on the initiative of Osh State University and 3 dissertation councils - together with other universities and research institutes:
К 01.19.599 Osh State University. 01.01.02 - differential equations, dynamical systems and optimal control, 01.01.04 - geometry and topology, 04.01.07 - condensed matter physics, 05.17.06 - technology of polymers and composites and processing.
D 14.20.608 Osh State University, Kyrgyz-Russian Slavic University named after B. N. Yeltsin. 03/14/06 - pharmacology, clinical pharmacology, 04/14/01 - manufacturing of medicines, 04/14/03 - organization of pharmaceutical work.
D 14.21.630 Osh State University, National Center for Phthisiology. 14.01.21-phthisiology, 14.01.21-hematology, 14.01.22-rheumatology.
D 14.21.632 Osh State University, Kyrgyz State Medical Academy named after Akhunbaev. 03/14/01 human anatomy, 03/14/02 - pathological anatomy, 03/03/04 - cellular biology, cytology, histology.
D 02.21.629 Osh State University, Institute of Chemistry and Phytotechnology of the National Academy of Sciences. 02.00.01 - inorganic chemistry, 02.00.03 - organic chemistry, 05.16.08 - nanotechnologies, Nanostructural materials.
D 25.21.634 Kyrgyz State University, Osh State University. 25.00.24 - Economic, social, political and recreational geography, 25.00.36 - Geoecology.
D 05.21.641 Institute of Mechanical Engineering and Automation, NAS, Osh State University. 05.14.08 - The main power structures of renewable energy sources, 05.14.02 - Power plants and power systems, 05.09.01 - Electromechanics and electrical equipment.
D 08.20.606 International University named after K.Sh. Toktomamatova, Osh State University. 08.00.05 - Economics and management of the national economy (by industry), 08.00.12 - Accounting, statistics.
A number of Osh State University scientists make a significant contribution to the development of science and the training of scientific specialists as chairmen, deputy chairmen, and members of many dissertation councils in the republic.
In accordance with the Decree of the President of the Kyrgyz Republic "On the National Attestation Commission under the President of the Kyrgyz Republic" and in order to ensure the operation of the national system of certification of scientific and scientific-pedagogical personnel, the implementation of the most important innovative projects of national importance and improve the level of training and status of scientific employees, the provisions " On the rules for awarding academic degrees", "On the dissertation council", "On the rules for awarding academic titles" and "On the expert council.
According to the newly approved rules, the main provisions of the doctoral dissertation must be published in peer-reviewed scientific periodicals, the list of which, the requirements for them, and their evaluation by points are approved by the Presidium of the Commission and posted on the website of the NAC. One article must be published in indexed scientific periodicals of the Scopus or Web of Science system. This does not apply to dissertations on the Kyrgyz language and literature. For them, it is obligatory to publish at least 4 articles in scientific periodicals of the RSCI system with an impact factor of at least 0.2. The total score of published works must be at least 250 points (previously it was 300). Newspaper articles, deposited manuscripts, and published abstracts of reports are not included in the list of works.
There is reason to believe that the noted changes will contribute to an increase in the indicators for the defense of candidate and doctoral dissertations among Osh State University faculty.