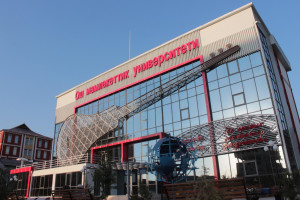 The Mission and Vision of the Faculty
The mission of the Faculty of International Relations of OshSU is to be a leading research and educational center, providing research and advanced knowledge, training qualified specialists in international relations, political science and regional studies who possess all aspects of economic, political, cultural development of the regions under study, who are responsible to the state and society for the results of their activities.
The vision of the Faculty by 2025- the Faculty of International Relations will be the basic educational and research unit of the University in the field of training highly qualified specialists in international relations, political scientists, scientific and pedagogical staff, meeting all the necessary requirements of the global educational space.
In the conditions of globalization and modern international processes in XXI century the specialties of the faculty of international relations will play more and more important role in realization of tasks of economic diplomacy, international educational and scientific programs and in intensification of regional integration processes. In this period the specialist in international relations must be informed not only about actual problems of politics, economics, demography, culture, management etc., but also have all necessary qualities of international analyst and organizer who can take high responsibility. Due to it the faculty of international relations must expand the scope of activities in related fields. In this context, there is a need to open new competitive specialties of narrow profile such as "international economic relations", "world politics", which accordingly will require the selection of qualified personnel.
By 2025 there will be implemented a new model of the faculty as a research unit of the university, organically combining the best international experience and domestic potential of higher education and science. This model will ensure integration into the global educational space through the development and implementation of a program of dual degree education, implementation of foreign education modules with a major focus on the implementation of English-language programs, publishing bilingual textbooks, study guides together with foreign professors, implementation of academic mobility programs of students, undergraduates, and faculty.
Specialties
№

Department name

Degree

Form of education

Period of study

1

International relations

Bachelor

Full-time

4 years

Master's degree

Full-time, distance learning

2 years

2

Political science

Master's degree

Full-time, distance learning

2 years
Departments
| | | | |
| --- | --- | --- | --- |
| Department | Head of department | Phone | e-mail |
| International relations | PhD, prof. K.H. Nurdinova | 0557727914 | knurdinova@oshsu.kg |
| Philosophy and political science | Doctor of philosophy, associate prof. K.A.Kurbanbaev | 0772665590 | kkurbanbaev@oshsu.kg |
| Professional foreign languages | Senior lecturer, J.Ch. Azimova | 0551310861 | jazimova@oshsu.kg |
Faculty management
| | | | |
| --- | --- | --- | --- |
| Position | Name Surname | Phone | e-mail |
| Dean | Saikal Ibraimova Seitakunovna | 0778028786 | sibraimova@oshsu.kg |
| Vice Dean for academic affairs | Alina Tashybaeva Kurmanbaevna | 0775995115 | atashybaeva@oshsu.kg |
| Vice Dean for science | Radjapova Nazgul Abiybullaevna | 0755112055 | nradjapova@oshsu.kg |
| Vice Dean for student education | Bapiev Ulan Abdimitalipovich | 0778309795 | bapievulan007@gmail.com |
| Сhairperson of the methodological council | Gulzat Amatova | 0555626429 | gamatova@oshsu.kg |
| Academic secretary | Gulzina Daniyarova Mamataliyevna | 0778736030 | gdaniyarova@oshsu.kg |
| Head of practice | Akmatov Sovetbek Akmatovich | 0555180900 | sovetbek58@mail.ru |
| The head of the labour union | Erkebaev Eles Mizanovich | 0770484484 | eles151515@mail.ru |