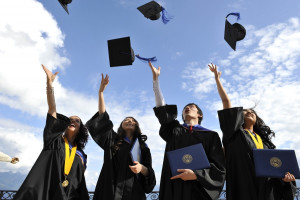 The mission of the Career Center
Assistance in career development, cooperation with the business community, and employment of students and graduates of Osh State University.
History of the Career Center
On December 28, 2006, by the decision of the Academic Council of the University, the Career Center (CC) was opened at Osh State University. The CC provides the following services to students, alumni, and employers: resume writing, cover letter writing, role-playing workshops, coach-to-coach training, workshops, job fairs, and other events.
The Career Center works closely with employers to help graduates find jobs, provide guidance on how to find suitable jobs, and work with international organizations and various employer programs to help graduates find jobs.
In 2011, the Career Center became part of the Education Quality Department of Osh State University. Volunteer students are a great help in running the Career Center, but at the same time, they provide much-needed experience to advance their careers.
In 2015, the Alumni Association was established at the Career Center. In general, the university has coordinators for graduates of 17 faculties. The Career Center has a database of Osh State University graduates, employers, and vacancies, the Public Association is directly involved in the organization and conduct of the "Alumni Association" and provides information and communication with relevant people.
One of the main goals of the job fair is to significantly reduce the time for searching for graduates, and both parties will have more opportunities for employers, vacancies, students, and graduates to find work. During the fair, business companies will have the opportunity to make presentations about their companies, and offices and cooperate with universities, offering jobs to students and graduates. This, in turn, will give students and graduates of universities the opportunity to meet personally with representatives of companies of interest to them and directly submit their resumes.
The annual increase in the employment of graduates on a budgetary basis may be associated with the activities of the career center. Every year, by order of the Ministry of Education and Science of the Kyrgyz Republic, distribution is held in April and explanatory work is carried out. In September they go to work. From September to October, the attendance of graduates will be monitored, and the reasons for their dismissal will be clarified on the spot. If there is a vacancy in one school in one area, we will help you to post a vacancy in a school in the same area.
On May 22, 2017, by the decision of the Academic Council, we introduced the requirement for a certificate from the Social Fund to obtain a diploma in order to replenish the budget and allocate it to state educational institutions (schools) for 2 and 3 years. . Currently, there is widespread information among graduates that it is impossible to get a diploma without working, and this is bearing fruit.
Position

Full name

Phone number

email

Senior Inspector (Head of the Career Center)

Matkalykov Aziret Ali Salaidinbekovich

0559 80-18-80

0779 70-18-70