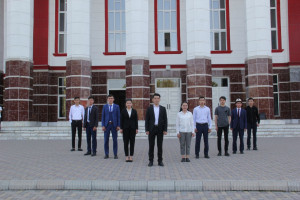 The Regulations on the Student Ombudsman of Osh State University were approved by the Academic Council of Osh State University No. 1 dated August 27, 2008.
The structure was created on December 10, 2007.
The Office of the Student Ombudsman is considered to be a structural department of the Education Department.
Purpose of the structure:
-ensuring constitutional, academic rights and freedoms of students;
- legal education of students;
- education of students in the spirit of observance and execution of laws;
- legal monitoring of the university;
-support and assistance to the development of the educational process at the university;
- prevention and fight against corruption during sessions, etc.
The Ombudsman's Office carries out its activities on the basis of the Constitution of the Kyrgyz Republic, the law of the Kyrgyz Republic on education, regulations, the regulations on the student ombudsman of Osh State University, the international declaration on human rights and the protection of freedoms, the concept of youth policy of the Kyrgyz Republic, the Charter of Osh State University.
The regulation of the Osh State University on the student ombudsman determines the procedure for choosing the ombudsman, the work of the apparatus and the council of the ombudsman, the legal status and powers of the ombudsman, tasks, and rights, the procedure for considering applications and complaints, the cooperation of the apparatus with officials of Osh State University is noted.
Composition of the Office of the Student Ombudsman:
Name/ Surname

Job title

Date of birth

Faculty

Telephone number

Jumabaev Bekjan Dooronovich

Manager of student ombudsman office

03.10.1999

East study and history

0777 727 403

Kalybaev Beksultan Dursunbaevich

Deputy of manager of SOO

20.04.2002

Mathematic and information technologies

0701582121

0880114648

Adil uulu Eldiar

Deputy of manager of SOO of faculties

03.04.2003

Mathematic and information technologies

0220 957 947

Sharip kyzy Mairam

Deputy of manager of SOO of colleges

23.02.2003

Mathematic and information technologies

0707 199 800

Usmanova Diana

Secretary of deputy of SOO

01.02.2004

Mathematic and information technologies

0704 039 249

Mirbek kyzy Gulmairam

Chairman of SOO

03.05.2004

East study and histоry

0773 187 847

Aitaliev Barsbek

Chairman of SOO

14.11.2003

Legal

0555 082 226

Doorova Adina

Chairman of SOO

09.07.2004

Russian philology

0509 992 039

Kalbekova Tanshoola

Chairman of SOO

09.07.2005

World languages and cultures

0500 005 305

Matmusaeva Hadicha

Chairman of SOO

09.01.2003

Theology

0704 062 309

Adil kyzy Jasmin

Chairman of SOO

01.05.2004

Theology (college)

0771 897 317

Tologonova Aiana

Chairman of SOO

16.09.2004

Art

0223 141 442

Tynchtyk kyzy Myrzagul

Chairman of SOO

24.11.2004

Pedagogy and psyhology

0709 447 112

Barchynbek uulu Altynbek

Chairman of SOO

31.10.2003

Medicine

0224 901 515

Urulbaeva Suiunura

Chairman of SOO

01.01.2004

Business and management

0700 3877 250

Abdiraimov Kadyrbek

Chairman of SOO

Medical college of Uzgen

0709 386 020

Muhamidinova Gulnur

Chairman of SOO

24.11.2004

Natural science tourism and agrotechnologies

0773 413 333

Duisheeva Urmatai

Chairman of SOO

27.04.2005

High school of international educational programs

0508 843 933

Askerbek uulu Mamytbek

Chairman of SOO

19.12.2003

Physics engineering

0770 325 264

Ysakali uulu Ibragim

Chairman of SOO

29.09.2002

Kyrgyz filology and journalism

+7 909 348 23 94

Paizmamatova Tanzada

Chairman of SOO

15.07.2004

Mathematic and informational technologies

0706 400 023

Almamat kyzy Jumagul

Chairman of SOO

11.12.2004

Kyrgyz - Chinese

0558 170 062

Raiymzhanova Gulsara

Chairman of SOO

20.06.2003

Physical cilture

0502 388 734

Akmatbekova Elnuru

Chairman of SOO

24.11.2003

College of international educational programs

0779 280 955

Melisbek kyzy Nurperi

Chairman of SOO

18.05.2002

Medical college

0990 100 469

Ganyev Zamirbek

Chairman of SOO

19.11.2004

Financial law college

0557 292 902

Aiylchiev Talgat

Chairman of SOO

20.01.2004

STEM- college

0508 980 202

Ulugbek kyzy Tolgonai

Chairman of SOO

17.01.2004

Industrial pedagogy college

0709 349 417