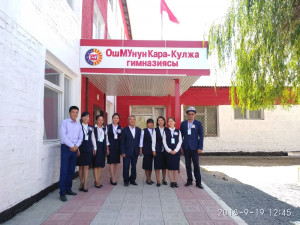 "Kara – Kulzha" gymnasium of Osh State University was opened with initiative of the rector OshSU, Isakov Kanybek in 2018, May 26 wish decree № 438.
In 2018 – 2019 school years at school studied only students of 8 – 11 grades. In this 2020 – 2021 school years students of grades 1 – 11 are trained.
Mission of the "Kara – Kulzha" gymnasium
Combining national tradition with international experience, and implementation of an innovative model of education in the humanities and natural sciences.
The gymnasium teaches in the following areas
Humanitarian sciences: Russian, English, Turkish, Chinese, German languages
Natural sciences: biology, chemistry, mathematics, computer science classes
Out side the basic curriculum at the courses: Kyrgyz, Russian, English languages and chemistry, math, taught in depth. Also we have preparations for the (ORT) national testing. Languages of training in Kyrgyz and Russian. Gymnasium classrooms are equipped with modern computers, interactive white boards and technical equipments. For students from remote regions provides dormitory and they are under the watchful eye of the educator.
The upbringing in the school has a national character. Students learn customs, traditions, rich history of Kyrgyz people, culture, values and modern behavior etiguette of our people, of our ancestors. Students brought up with the qualities of a young Kyrgyz gentleman and of a following direction.
It is taught in the following direction:
Family tradition
Tradition of respect for the elder and the younger
Examples of Kyrgyz culture
Moral and faith
Human behavior
The number of students does not exceed 20. Students are taken an the basic of a special exam (testing). The test includes Kyrgyz and English language, mathematics, logic questions. And the will be an interview. In order to register for school, the student must come in person.
School administation
Position

Name

Contact hone

Email address

Headmaster

Kaldybaeva Chynarbu Mametevna

+996772198467

chynarbu@list.ru

Head of the educational part

Tazhikova Altynai Mamatbakyevna

+996550155506

Alkotazhikova@gmail.com

Organizer

Abdimalik kyzy Albina

+996777197476

Albina.abdimaikovna@mai.com

Head of method logical associations

Humanitarian sciences

Nurdinova Kalya

+996707787012

nurdinovakalya@gmail.com

Natural sciences

Tutueva Sayrash

+996777560731

tutueva7016@gmail.com

Primary classes

Karybekova Nrzhamal

+996779165195