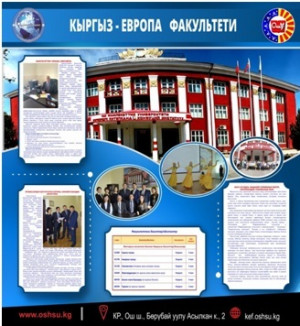 Faculty of Kyrgyz-European was opened on June 21, 2017 by the order of Professor, Doctor of Philology, University's Rector K.A. Isakov.
In the 2020-2021 academic year, 479 students are studying at the faculty.
Since September 2020, the project "Law Center and Green Economy" has been working at the faculty.
The faculty trains specialists in 6 areas:
531800 – European Studies
531700–American Studies
580700 – Business Administration (International Business)
600200 – Tourism
530500 – Jurisprudence (international and European law)
531100 – Linguistics (translation and translation studies)
In the Kyrgyz-European faculty 2 chair organize the education process:
1. Chair of International Law, Business and Tourism - Head of the chair, Candidate of Political Sciences, Associate Professor Razhapova Nazgul Abibullaevna.
The department has 4 associate professors (1 candidate of political sciences, 2 Candidates of Legal Sciences, 1 candidate of economic sciences), 1 senior lecturer, 7 teachers, 1 senior laboratory assistant.
2. Chair of American-European Studies and Linguistics - Head of the Chair, Senior Lecturer Adapbaev Kunduzbek Berdibaevich.
The teaching staff of the department consists of 2 candidates of sciences (associate professors), 4 senior lecturers, 4 teachers and 1 senior laboratory assistant.
The Kyrgyz-European faculty has a modern educational building with a total area of ​​2725 m2. The faculty has 2 lecture halls and 10 classrooms used in the educational process. There are also rooms for 2 heads of departments, 1 dean , 1 deputy dean and methodologist for academic affairs, 1 secretary-referent. We have a total of 18 computers and 7 printers connected to the Internet. The faculty has a large assembly hall; the hall is used not only for meetings, concerts and sessions, but also for educational purposes, and large current lectures are held in this hall. Because there are training blocks in the hall.